Energy's Silk Road TANAP was launched
The inauguration ceremony of Trans-Anatolian Natural Gas Pipeline (TANAP) was held at the Eskişehir Compressor and Metering Station, the first point where gas distribution will begin, in the Aksaklı neighborhood of Seyit Gazi district of Eskişehir.
TANAP forms the Southern Gas Corridor together with the South Caucasus Pipeline (SCP) and the Trans-Adriatic Pipeline (TAP) which will allow the transfer of Azerbaijan's natural gas, produced in Shah Deniz 2 Gas Field and in other areas in the south of Caspian Sea, first to Turkey, then to Europe.
The President Recep Tayyip Erdogan, Azerbaijani President Ilham Aliyev and Serbian President Aleksandar Vucic, President of Ukraine Petro Poroshenko and Turkish Cypriot leader Mustafa Akinci, as well the Minister of Energy and Natural Resources Berat Albayrak, the President's Spokesman Ibrahim Kalin, Azerbaijan's oil company SOCAR and TANAP Chairman Rövnag Abdullayev, energy ministers of stakeholder countries, managers of energy companies and senior bureaucrats were present at the opening ceremony.
TANAP has an important place in Turkey's energy supply security, and will contribute to peace and stability in the region as well as Turkey's objective to become a trading hub. TANAP has the following shareholder structure; 51% Azerbaijani state energy company SOCAR, 30% BOTAŞ, 12% BP and 7% SOCAR Turkey.
Initial annual capacity of the project is 16 billion cubic meters of natural gas and 6 billion cubic meters will be transported to Turkey and 10 billion cubic meters to Europe, and it cost $ 8 billion.
"Energy as a ground for cooperation rather than conflict"
President Recep Tayyip Erdogan said at the inauguration ceremony: "Today, we are taking a historic step for our countries and the region. We are opening the Trans Anatolian Natural Gas Pipeline, which is the backbone of the southern gas corridor, which we call energy 'Silk Road'. "
Erdoğan stated that rather than being a transit country, Turkey has come to a critical position with TANAP, playing a role in every stage of the value chain extending from the producer to the final consumer. And said "Our understanding that energy is seen "as a ground for cooperation rather than conflict" shaped in flesh and bones once again thanks to TANAP."
Erdogan called TANAP the fruit of the shared vision of the countries involved in the project and said it would pave the way for similar future projects.
"TANAP, the victory for Turkey and Azerbaijan"
Speaking at the ceremony, Azerbaijani President Ilham Aliyev stated: "The unity and brotherhood of Turkey-Azerbaijan is an important factor for our countries, our people, our region and the Eurasia. TANAP is a victory of Turkey and Azerbaijan"
Aliyev added: "Today we write together the energy history of the 21st century. This date is the date of cooperation. Our energy projects will bring stability to our region. All the countries, companies, and people participating in this project will benefit. A cornerstone of the implementation of TANAP project has been made possible as a result of the wise and the strong political will of the leaders of Turkey and Azerbaijan. Well-thought policies, strong will and our brotherhood lies behind this victory.
"TANAP, the project of stability, strong leadership and vision"
Minister of Energy and Natural Resources Berat Albayrak emphasized that TANAP project is the new symbol of Turkish-Azerbaijani brotherhood and emphasized its importance in the energy history in the region. The regional cooperation established among Turkey, Azerbaijan and Georgia reached new continents and grew into a global collaboration, Albayrak stated. He stressed that TANAP is the project of stability, strong leadership and vision.
Albayrak pointed out that TANAP will enormously contribute to the energy supply security of Turkey and all the countries where it reaches. TANAP will be the greatest indicator for our claim that Europe's energy supply security starts from Turkey. It will further increase the diversity of route and source of the Europe. All parties in the project will win and most importantly, regional and global peace and stability will be achieved.
Overview of the TANAP Project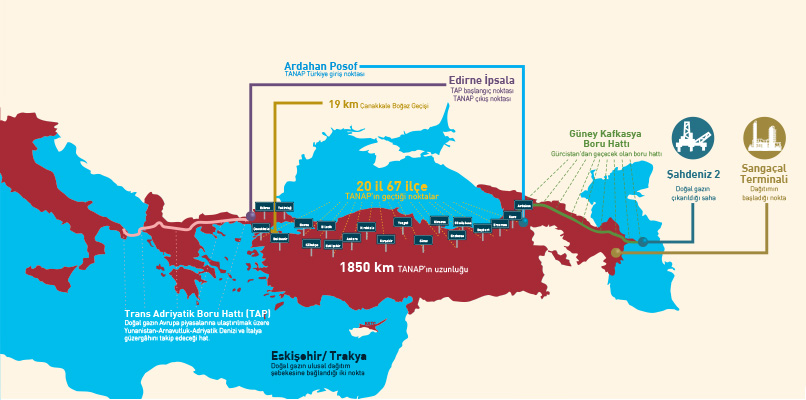 The TANAP Pipeline, which end in Edirne starting from Ardahan, is 1850 km long. TANAP is located on the route of 20 provinces and 67 district areas.
In the TANAP project, that the construction works began in 2015 and gas flow towards the Turkey began in 12.06.2018, the gas phase is planned to be increased in four steps.
In the first stage, a capacity of 16 billion cubic meters was created. A total of 6 billion cubic meters of gas transportation is foreseen, as TANAP's volume will increase over the years. A total of 10 billion cubic meters of gas are being transported to Europe starting from the first quarter of 2020 and increasing in volume every year.
The transport capacity is targeted to be 24 billion cubic meters in 2023 and 31 billion cubic meters in 2026.
TANAP has two exit points in Eskisehir and Trakya for connection to the national natural gas transmission network. TANAP Natural Gas Pipeline System constitutes a total of 1850 km main pipeline including 19 km Marmara Sea passage. TANAP consists of 7 compressor stations, 4 measuring stations, 11 pig stations, 49 block valve stations and 2 gas exit stations that to feed into the national gas network in Turkey.