Market
A wholesale market where the natural gas bid-sales orders are submitted on a "gas day" basis, where matches cause a "physical delivery obligation" for the gas days covered in the related contract and where clearing quantities are transformed into "transportation quantity notice" (TMB) on the "national balancing point" (UDN), where transactions can take place within a 54-hour "trading window" (day-ahead, intraday and day-behind) for daily contracts and business days between 8 and 16 hours for weekly contracts. In spot market, transactions take place on a "continous trading" basis, by immediately clearing the orders that match in terms of price and quantity.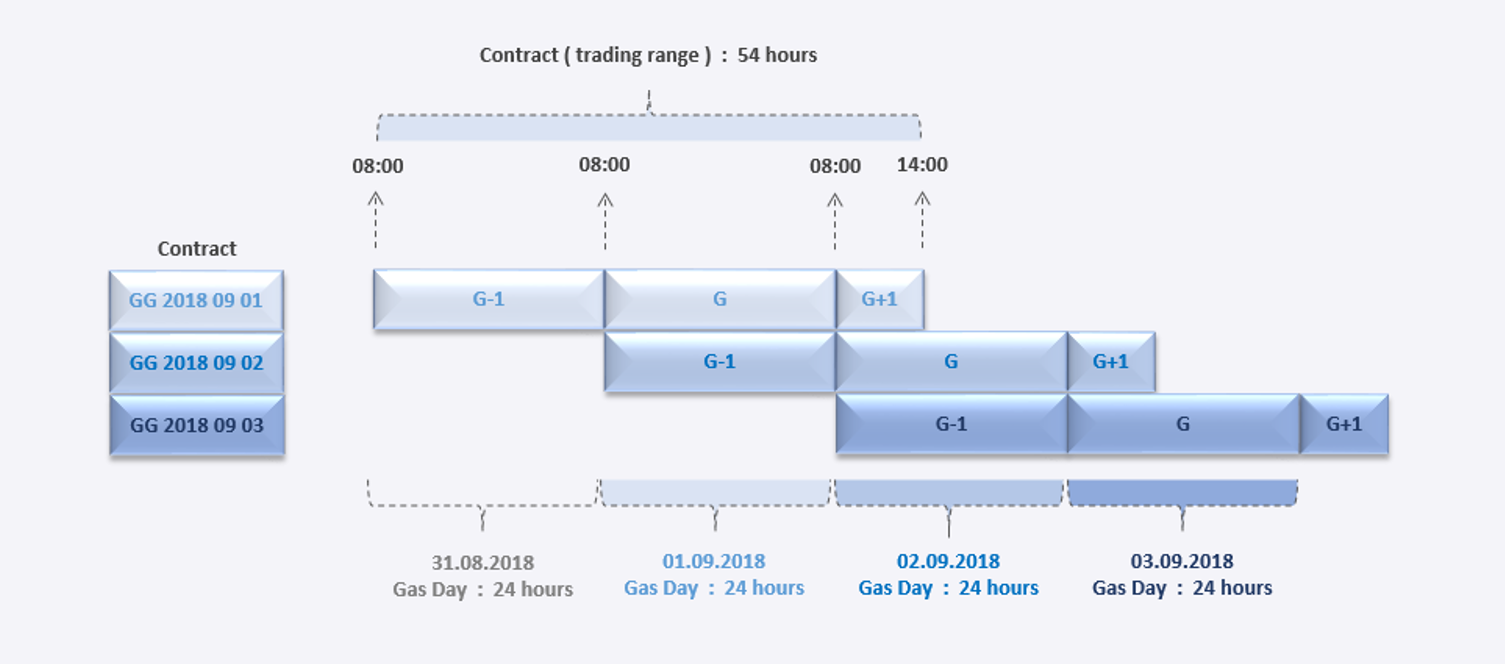 " Trading Window Structure "
The "continuous trading platform" (STP) developed for this purpose is operated by EXIST. Trading with STP will provide many opportunities, which over-the-counter trading cannot, such as giving orders after seeing the latest unit price in the market (daily reference price, GRF) and the instant weighted average prices of the matches in the relevant trading window, giving single and multiple orders at once, determining the validity period for the orders from preferences, updating or cancelling previously entered orders that haven't yet matched, defining a separate order quantity and price limit for each user, compensating for the imbalance that is created in a given gas day during the next day's session. Additionally, the opportunity for the "market-based balancing of the transmission system" can also be obtained.

" Organized Wholesale Market Model "
Organizations who will carry out trading in the Organized Wholesale Market (OTSP) must have at least one of the EMRA import, export or wholesale licenses. Organizations are divided into two types, according to the platform they prefer for their activities. System Users are organizations who supply natural gas to the transmission network, who transit pass or purchase natural gas from the network with bilateral agreements on the over-the-counter market. Market Participants are system users who additionally have the right to carry out transactions in STP. In short; the term Participant is used for Market Participant and the term Shipper is used for both.